The House of Silence Volume 2: Ricochet
by J.A. Jaken


Novel (70,000 words)
Genre(s): Gothic, Suspense, BDSM

Eroticism and danger - a fight for survival!

The sanctuary of The House of Silence is shattered when an influential client presents Master Charon with an ultimatum: hand over Vincent, or he'll destroy the House. When Charon refuses, he is plunged into a nightmare of reprisals, forcing him and his beautiful young men to fight for their lives, their sanity, and their right to exist. Why are some powerful men willing to destroy the House of Silence to get hold of one male prostitute? What secret threatens the governments of two countries?

Charon, Phoebe - the head of security - and all the young men of the House of Silence will have to work together. They must tap into long-hidden resources and long-denied histories for their safety and survival. To thwart the forces aligning against them, they'll need to unlock the secrets buried deep in the House's past. How much is one man's life worth to them?
Available in epub, mobi, pdf, and print versions!
Buy it now from Fantastic Fiction!
Also available from Amazon, All Romance Ebooks, Barnes & Noble, SmashWords, and Sony.
The print (paperback) version is also available.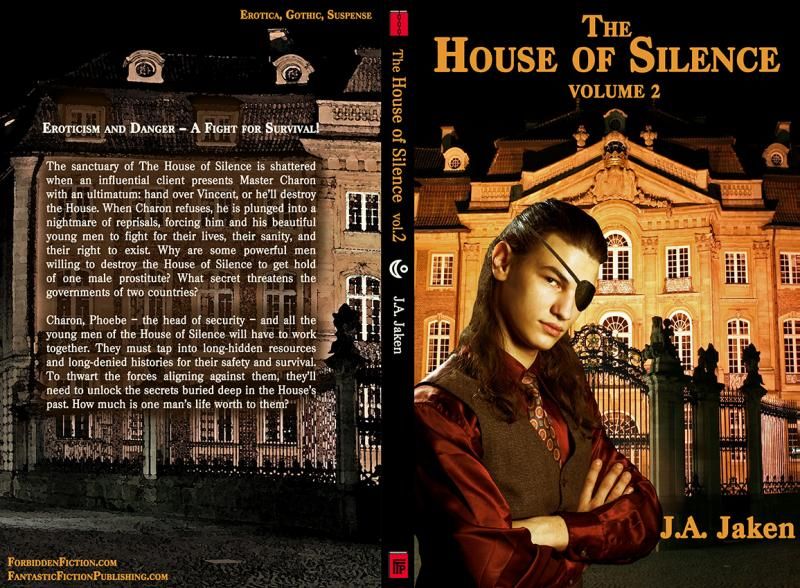 Read more about the House of Silence series here.
---
---
"This book is filled with so many twists, turns, mystery, intrigue, and is so fast paced that it is breathtaking. Better than a roller coaster ride."
"The author takes you on a fantastically written journey to an alternate reality of old-worldly grandeur, in which an opulent brothel with secret passageways is home to beautiful young men and their charismatic, but mysterious master, Charon Marque. [...] you, too, will get sucked into the seductive world inside the House and the lives of its occupants."
---
Here is a sample from The House of Silence 2: Ricochet :
Vincent fought the urge to flinch when Montgomery's attention turned back toward him. He watched the other man's movements warily as Montgomery crouched down in front of him.

"How does it feel to know you belong to us, little whore?" Montgomery asked him, so softly the officers around them would not be able to hear. He smiled thinly when Vincent refused to answer. "You will, of course, be taken into custody for the crimes you've perpetuated against our fine country." He shook his head, tsk-ing faintly. "Assisting your friends from the House of Silence in acts of domestic terrorism. I was shocked when I found out that Charon was responsible for organizing such a heinous crime. Shocked and appalled."

From the continued godawful grin on his face, Vincent found that description of his emotional state highly suspect. His chest felt tight at the realization of just what outlandish charges were being used to mobilize the entire police force against them. Doubtless the "evidence" of such terrorist activities had been uncovered during the raid on the House of Silence after Montgomery had found out about their escape.

"Of course Charon will have to pay for his misguided attempt to overthrow the monarchy. He's an arrogant son of a bitch, don't you think?" Montgomery's tone was casual. "I think it'll do him some good to be knocked down a peg or two. And your involvement is making the whole thing worse for him. Because now the whole thing has an international flavor to it, which brings additional penalties. You will, of course, have to be handed over to the authorities of your own country to face proper judgment for your crimes."

Of course. Vincent felt reluctant admiration for the way in which the coup against them had been organized. He wished suddenly that Charon had just handed him over at the start of it all instead of getting himself and the House of Silence involved this deeply. He didn't want to think about what would happen to the boys at the House if the trumped-up charges against Charon stuck.

Montgomery reached out to touch Vincent's hair and leaned in close to him, lowering his voice still further. "I can see why Delafonte wants to get his hands on you," he breathed in Vincent's ear. "I'm really hoping I get a chance to try you out before I have to hand you over to him."
---